21 Black-Owned Etsy Shops Full of Amazing Art, Home Decor, Gifts, and More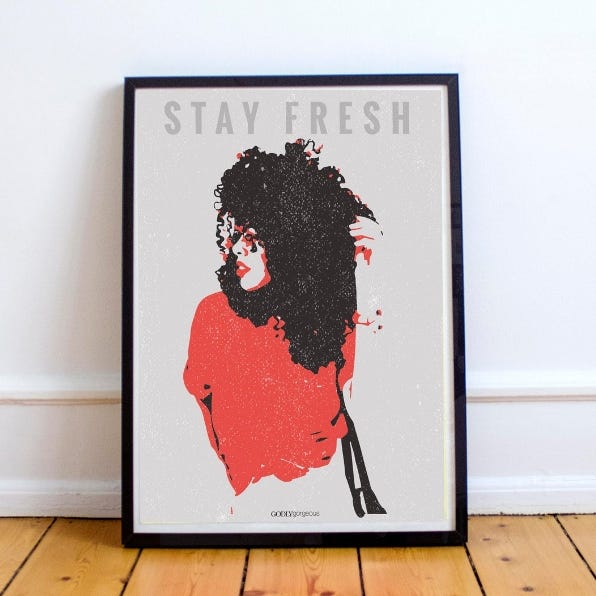 The Juno Studio/Godly Gorgeous/Etsy
Etsy, your go-to destination for handmade gifts, craft supplies, decor, and more, recently highlighted a selection of Black-owned shops on its platform in its "Editor's Picks" column. The list, part of the brand's commitment to supporting Black business owners and standing in solidarity with the Black Lives Matter movement, features dozens of shops owned by Black jewelry makers, illustrators, vintage clothing sellers, woodworkers, fiber artists, candle makers, and more.
If you're looking for a way to support Black creatives and small business owners, buying from this list of Black-owned Etsy shops is a good start. We rounded up some of our favorite home decor, art, and gift shops from Etsy's picks and beyond—whether you're looking for cool planters or custom portraits, you're sure to find a shop you'll love. You can also check out Etsy's full curated list on etsy.com.
Read More: Yowie Founder Shannon Maldonado on Being a Black Shop Owner Amidst Protests
Advertisement - Continue Reading Below
1 Pepper Palm
Plant lovers, rejoice—Pepper Palm is here to to give your houseplants a serious upgrade. Stunning hand-painted plant pots (like the "Desert Days" design seen here), saucers, and more in bold colors and graphic prints await you at this Nashville-based shop.
2 Pontie Wax
You can never have too many candles, especially when they smell as sweet as this rosewater candle from Pontie Wax, a Brooklyn-based Etsy shop named after the founder Shante's mother, Pontie. The scents are island-inspired to pay tribute to Pontie's love of her family garden growing up in Barbados.
3 Emma Make Studio
Cambridge-based EmmaMakeStudio is an great stop for fun, colorful prints—like this pretty pink number of flowers in a gin bottle vase—made by Emma, an English and Mozambican designer. Many of the prints are available for instant download so you can print and frame them yourself at home—no need to wait for shipping.
4 Studio Nom
Whether you want ready-made fiber art or would like to make it yourself (the gorgeous fringe hanging seen here is actually available as a DIY kit!), Studio Nom has you covered. The Netherlands-based shop doesn't just sell wall hangings, either—you'll also find vases with woven details, too.
5 Archer Home Designs
Anyone with a love of rustic, farmhouse-inspired style will appreciate Archer Home Designs. The family-run Fort Lauderdale-based shop is run by Ntebo and Edvardo Archer, who build and refinish furniture like this beautiful rustic dining table and bench. They also plan to add home decor accessories like trays and frames to the shop in the future as well.
6 Bespoke Binny
At London-based Bespoke Binny, you'll find beautiful lampshades (like the one seen here!), pillows, aprons, travel accessories, and more. "Being of Ghanaian descent, I grew up being surrounded by vibrant colours and prints, which she found to be uplifting, as a child," owner Natalie Manima writes on the shop's page. "Motivated by my experience and love of sewing, I went on built an eclectic homeware brand rooted in African expression."
7 The Juno Studio
This rainbow woven hanging isn't just a piece of decor—it's actually an essential oil diffuser! The maker behind this adorable—and functional—piece is Ciara Jones, owner of The Juno Studio, a Georgia-based shop. These creations are meant to hang in your care for a little bit of both style and fragrance.
8 Simply GVO
Another great candle shop, Simply GVO (which stands for "Simply Good Vibes Only") has some truly beautiful picks to choose from. This Japanese cherry blossom candle is just one of many fragrances—and you're not just limited to candles, either. The Westchester-based shop, run by owner Kenyatta, also has jewelry, prints, and body care products in stock, too.
9 Morning Joy Co.
Texas-based Morning Joy Co. is run by Jasmine and Justin Allred, a husband and wife team who make custom laser-cut wooden signs and home decor. These personalized cutting boards (which feature hand-written recipes!) are just one example of what they have to offer—and they certainly make a great gift.
10 Godly Gorgeous
You can buy everything from art prints and stationery to apparel at Godly Gorgeous, an Oklahoma City-based Etsy shop run by owner Andrea George. The prints section of the shop is our favorite, thanks to its bold, beautiful, and inspirational offerings like this "Stay Fresh" print.
11 Wishful Paperie
Planning a wedding (or a shower) and in need of some beautiful invitations? Wishful Paperie, an Orland-based shop run by maker Kizzie M., has you covered, with tons of editable templates like the abstract option seen here that you can use to fill in your own info and print out yourself.
12 Treatment.
At Treatment., a California-based shop run by owner Deja, you'll find home fragrance products like this honeysuckle jasmine reed diffuser, small-batch scented soy candles, apothecary items, and more (including cloth face masks!).
13 R-KI-TEKT
If this hand-painted leather wallet is catching your eye, you need to check out R-KI-TEKT. Based in Atlanta, Georgia and run by maker Kel Cadet, R-KI-TEKT is a must-shop for leather goods and jewelry, and you'll even find some fun painted planters in stock, too.
14 Ivelisse Designs
Calligraphy artist Steph Ivelisse runs this Austin, Texas-based shop where you can buy art and personalized place cards (like these super cool clear hexagon cards!) and glasses, as well as apparel—including a custom painted leather bridal jacket. If you're getting married any time soon, Ivelisse Designs is here to help make it special.
15 The Heart Department
Maker Tanalee owns The Heart Department, a Kentucky-based shop that sells handmade wooden displays—think photo holders (like this sleek card holder), tablet stands, clipboards, memo boards, and more. You'll also find the cutest decorative wooden houses to add some rustic charm to your space.
16 The Pink Locket
The Pink Locket, a shop based in Atlanta, is a great resource for modern handmade jewelry—perfect if you're looking for a place to buy unique gifts. You'll also find these fun ring dishes, which double as storage and decor. Owner Kamilah writes in the shop description that, she "comes from a very culturally rich background since she was born in Jamaica and raised in the US, so her inspiration comes from art, shapes, city landscapes, and even customers."
17 Frequency of Love
Personalized art is always a great gift option, and London-based shop Frequency of Love has you covered. Maker and owner Zoë Sinclair creates digital collages using photos and African fabrics, so you can order custom portraits of your loved ones or choose from more than 100 portraits of everyone from civil rights leaders to celebrities. Sinclair describes the collection as "a colorful celebration of iconic people, inspirational people."
18 Kingsley Leather
Shopping for gifts for men? Kingsley Leather, a shop from Cheltenham, United Kingdom run by craftsman Kingsley Thompson, is full of beautiful leather goods that are totally giftable. In stock you'll find simple-but-sleek wallets like the one seen here to personalized leather cufflinks, belts, keyrings, and even a super-cool leather bowtie.
19 Mind the Cork
Vegans or anyone looking for faux leather goods will appreciate Mind the Cork, a London-based shop run by owner and maker Jenny. These colorful cork notebooks are just one example—you'll also find faux leather card holders, zipper pouches, and even cork succulent planters.
20 heART by Jasmine
This art piece—which, by the way, features real pressed flowers—was made by Jasmine Irons Anokute of Heart Centered Energy, an energy healer and Reiki practitioner who also creates heart-centered artwork just like this. Her Los Angeles-based Etsy shop, heART by Jasmine, has some examples of her artwork so you can order a custom piece, too.
21 Studio Kyra
Whether you're looking for custom quote art, stickers, ornaments, or gift tags, Brooklyn-based shop Studio Kyra can help. Owner and calligraphy artist Kyra Russell makes creates these hand-lettered creations, including the pretty watercolor affirmation cards seen here and so much more. You can also contact Russell about more custom projects, too.
Brittney Morgan
Associate Market Editor, House Beautiful Brittney Morgan is House Beautiful's Associate Market Editor, a noted land mermaid, and a Virgo with a penchant for crafts, red lipstick, and buying way too many throw pillows.
This content is created and maintained by a third party, and imported onto this page to help users provide their email addresses. You may be able to find more information about this and similar content at piano.io
This commenting section is created and maintained by a third party, and imported onto this page. You may be able to find more information on their web site.
Advertisement - Continue Reading Below